Pushp Vatika Jeevan Nagar organized
Ramnavmi and Dussehra in the school campus
on 1st of October 2022. The word Navratri
translates to nine nights. Navratri is one of the
most important and celebrated festivals in India.
Devotees of Goddess Durga celebrate this
festival with utmost devotion and fervour.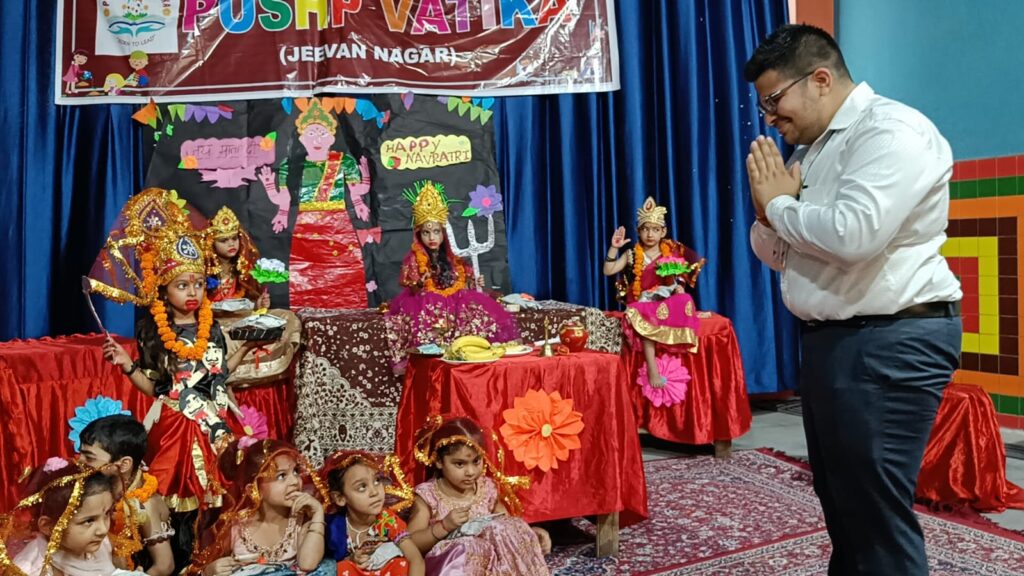 All nine days are dedicated to nine different avatars
of goddess Durga. To seek the prime blessing of
godess Durga Respected Principal Sir
Rameshwar Mengi , the Director of Pushp Vatika
Mr. Risheek Mengi, Headmaster of Shiksha
Niketan Mr. Harish Sir and Headmistress of Pushp
Vatika Mrs. Sushma Sharma and all the staff
members marked their presence on this day.

Bhajan and Arti were performed by Pushp Vatika
staff members. This created the ambiance of
spirituality in the school and all prayed the God
for the blessings. Hence after, Arti was
performed and Kanya Pujan was done by the staff
members of the Pushp Vatika and after that
Dussehra celebration starts in which children
were beautifully dressed up to play the role of
their favourite mythological character from
Ramayana. The children who enacted these roles
were perfect in their poise, confidence and
expression.Then they set the effigies on fire.
Everyone enjoyed very much the burning of the
effigies and crackers plced in them. Keeping the
rhythm of the festivity, "Ram Ram Jai Raja Ram,
Ram Ram Jai Sita Ram" was played and sung by
the children.
The event was a learning experience for all and
enriched the young ones about our heritage and
culture.